Download our spring newsletter here
Upcoming presentation at The Long Island Psychology Conference
Molloy College, May 3rd, 9:30am-2:00pm
Our staff, Laura B. Kestemberg, Ph.D. in Clinical Psychology and
Jill Lucente, MS, LCAT, MT-BC, will talk about the TIME-A research study - an international study seeking to discover whether music therapy is an effective early intervention for children with ASD. In addition, implications for parent support groups will be discussed.
For more details click here
IMCAP-ND SPREADS!

Dr. John Carpente, Ph.D., MT-BC, LCAT will instruct a two-day IMCAP-ND CMTE Course for professionals at various locations in 2014
Howards Community College, Columbia, MD, May 3rd-4th.
Molloy College, Long Island, NY, Aug 1st-2nd.
Radford University, Radford, VA, October 24th-25th.
For more details click here
TRC recognized by iCDL as a dIR/Floortime Center

THIS JUST IN from Jeff Guenzel, CEO of ICDL (home of DIR/Floortime Model- founded by the late great Dr. Stanley Greenspan).
The Rebecca Center for Music Therapy is now recognized as a DIR/Floortime Center, making us ICDL's first EVER recognized music therapy program.
We are honored and privileged to be a part of ICDL's mission/vision and look forward to our continued work of carrying out the legacy of Dr. Greenspan. LET'S REACH EVERY CHILD!
For more information on Stanley Greenspan and DIR/Floortime, Click here.
Parent Support Group at the Rebecca Center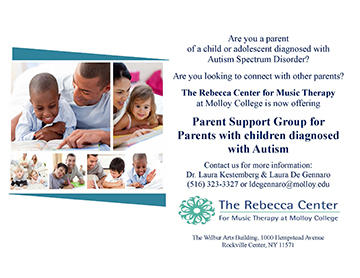 If you are interested in joining, please contact:
Dr. Laura Kestemberg & Laura De Gennaro
Telephone: 516.323.3327
or
email: lkestemberg@molloy.edu or ldegennaro@molloy.edu
Latest Publications
Dr. Carpente's latest publication, The Individualized Music-Centered Assessment Profile for Neurodevelopmental Disorders (IMCAP-ND®): A Clinical Manual is Now Available for Ordering.
The IMCAP-ND is a developmental relationship-based assessment framework, that focuses on how clients perceive, interpret, and create music with the therapist as the first step in formulating clinical goals and strategies for working with individuals with Neurodevelopmental Disorders.
For more information and to order, Click here.